INTELLIGENT SCAN software is included with OPERA MACH2 intraoral scanners. It integrates many data processing functions guaranteeing to obtain high quality digital impressions, with real color rendering.
 INTEGRATED SOFTWARE:
Artificial intelligence
Virtual Model (model builder)
Ortho analysis
Oral health report
Smart Preview mobile app
CLINICAL TOOL KIT
The toolkit can help users evaluate digitized data in clinics. This includes functions such as: "Check Undercuts", "Check Occlusion", "Adjust Coordinates", "Set Margin Line" etc. for design and restoration projects.
ARTIFICIAL INTELLIGENCE
INTELLIGENT SCAN Software identifies non-essential data (language, cheek,…) and performs automatic data optimization. It integrates numerous data processing functions guaranteeing to obtain high quality digital impressions.
ORAL HEALTH REPORT:
Thanks to this report, the patient has a better understanding of his oral health by highlighting information such as: cavities, missing teeth, dental tartar, etc.
SMART PREVIEW:
Mobile application to facilitate Patient/Practitioner communication.
AUTOMATIC SCAN RETRACTING: When a part of the scan is missing this retracing feature allows users to return to the missing area for a new scan; smooth data alignment.
UNIVERSAL APPLICATION:
Intraoral CT can be applied for implant, restorative and orthodontic indications. Whether in instant chairside treatments or "clinic + dental lab" integration, Opera MC always delivers a smooth user experience.
INDICATIONS :
Meet requirements for a variety of indications including single crowns, inlays/onlays, bridges, veneers, orthodontics and implants.
DATA CLOUD PLATFORM:
The cloud data platform enables data transmission, which facilitates order tracking and facilitates communication between clinics and dental laboratories.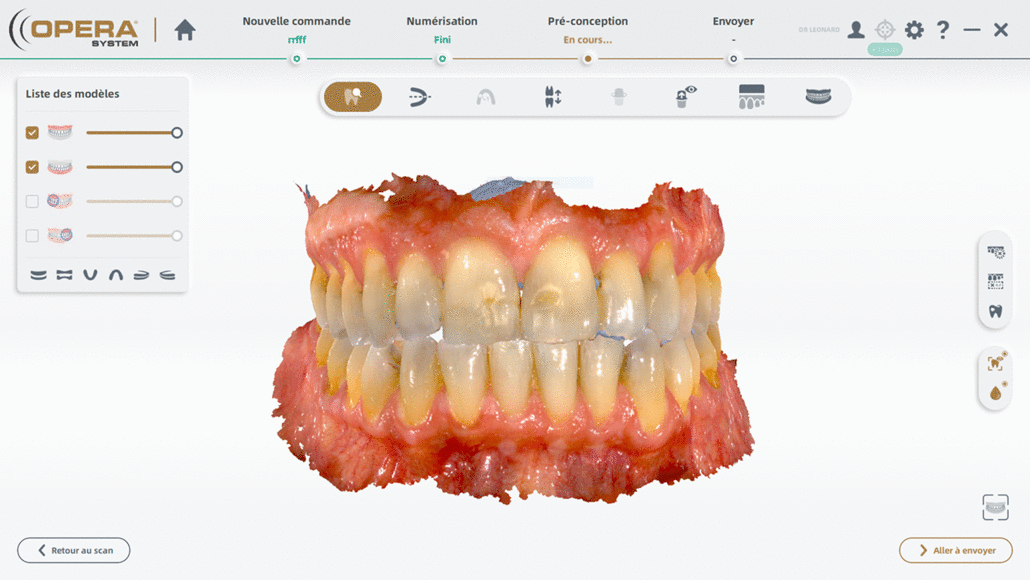 Preparation – Limits and undercuts: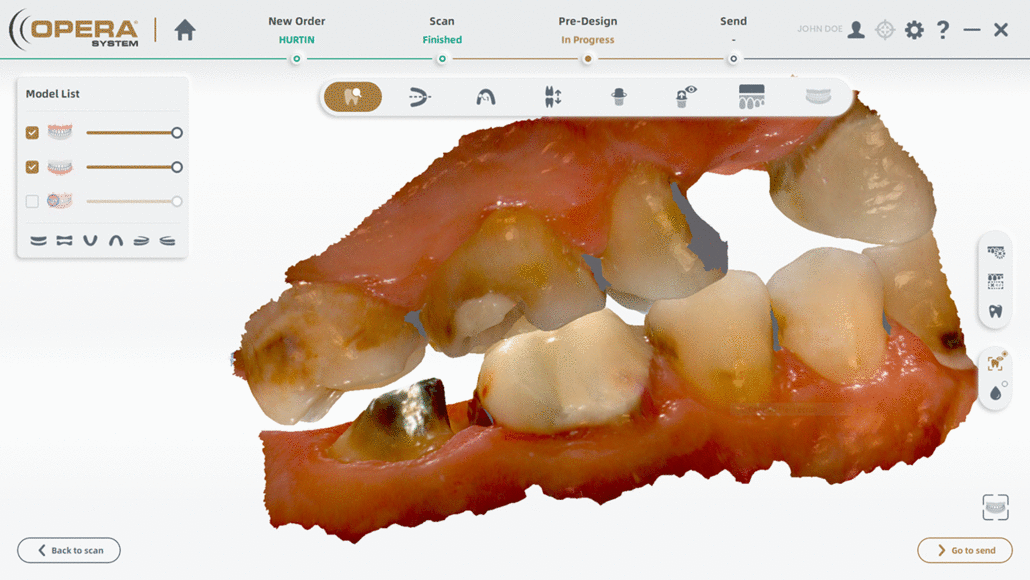 Virtual model (Model Builder) :