DRY & WET GRINDING
Versatile dental milling machine.
Equipped with a blank changer for eight blanks. You fit the changing station with blanks via a smaller additional front cover.
he proper blank for your milling job is inserted into the fixing device automatically when required. So the machine can mill around the clock and no operation steps have to be performed.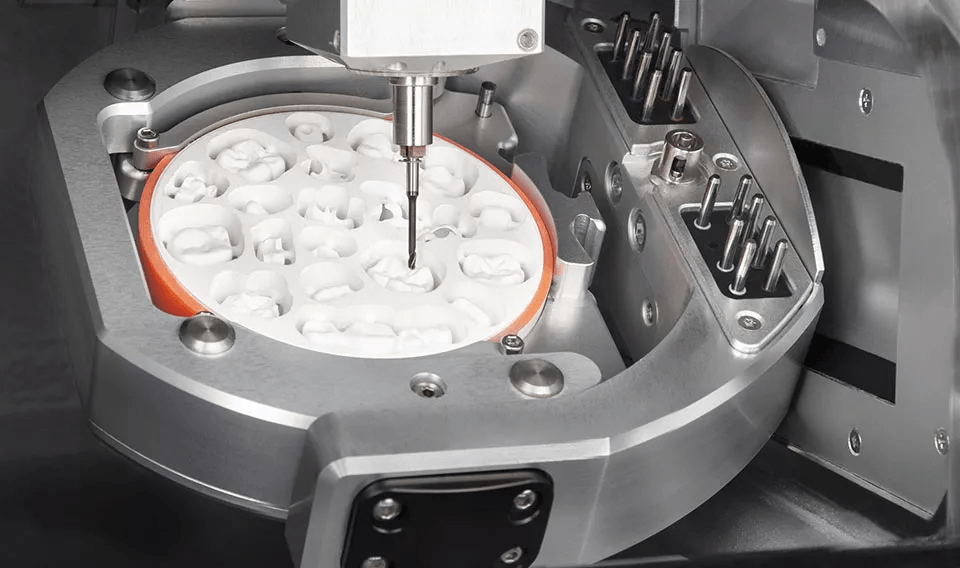 TOP PERFORMANCE NON-STOP
Highest precision
Restorations in ultra HD
Premium spindle with precision bearing, powerful 600 watts and 60,000 RPM
3 microns repetition accuracy
Tremendous stability
Processes all types of materials, including CoCr, titanium, and glass-ceramics
Solid cast-body for minimum vibrations
Maximum variety
Almost unlimited material accessibility in 98 mm disc format as well as 38 block materials and >800 prefabricated titanium and CoCr abutment blanks
Large indication diversity due to a ±30° rotation angle in the 5th axis, and up to 30 mm blanks
Optional wet-grinding module converts the S5 into a wet-processing machine
Outstanding reliability
Day and night operation
100% engineered and manufactured in Germany
Maximum efficiency
Milling and grinding around the clock due to automatic changer for 8 discs, 24 blocks or 48 prefabricated abutments
Automatic changer for 16 tools
3 ionizers neutralize the static charge of acrylic chips – for a clean working chamber
Very easy to operate via DentalCAM software with DirectMill function – included in scope of delivery and without license fees
Milling software – DentalCAM
High-performance software package with open STL import for all common CAD programs
Optimized CAM strategies for the fastest possible machining
 
Fields of application
Dry milling / Wet in option
Dimensions
692 x 445 x 540 mm

Weight

±95 kg

File Format

STL
No. of axes
5

Automatic charger

8 blanks / 24 blocks / 48 premilled

Automatic Tool Changer
16 tools
Machinable materials
Zirconia, Wax, PMMA, CoCr, Peek, Acetal, Titane, Premilled, Nanoceramic, Feldspath / Avec l'OPTION 3 blocs à sec : Lithium disilicate, Composite resin, Lithium silicate
Positioning Range
A

rotary axis of 360 degrees B rotary axis (fifth axis) of ± 30 degrees Engrenage Harmonic Drive

Air Consumption
Min 7 bars – 80 l/min
Repetition accuracy
± 3 microns
Rotation Speed
up to 60,000 RPM
Built-in ionizer
✔︎

Tool-free blank clamping system

✔︎
Option 3 dry blocks
✔︎