4 AXIS – DRY & WET GRINDING
Airtool patent – Compressed air-free milling / Wet grinding with no grinding additives with PUREWATER technology
Quick and easy switch between wet grinding and optional dry milling.
OPERA SMART integrates perfectly into your workflow and produces perfect restorations.
Plug & Mill: Unpack – Connect – Mill!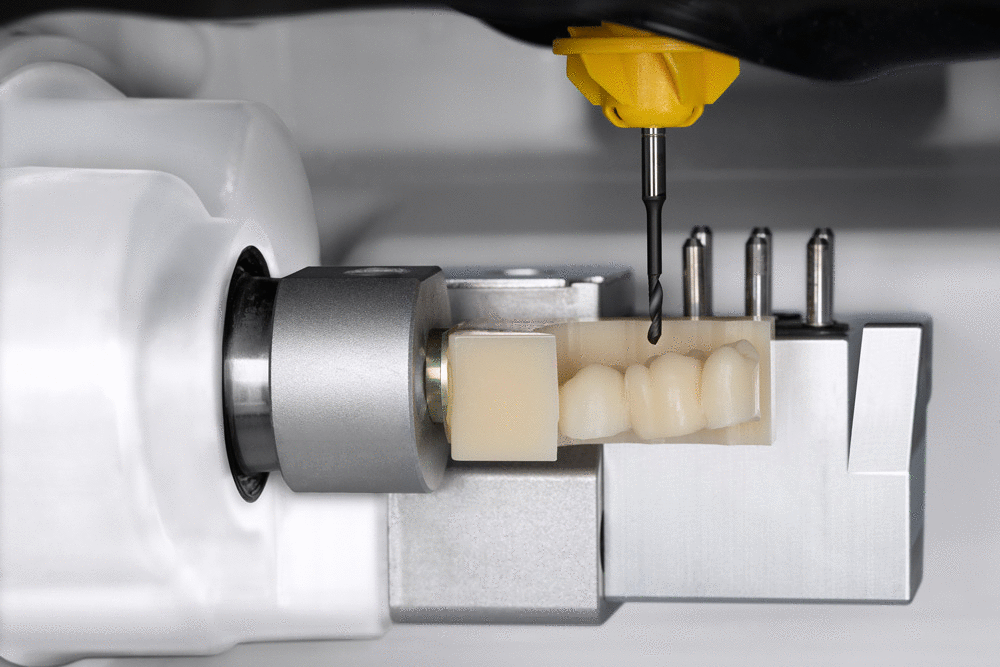 No compressed air
Block thickness up to 45 x 20 x 20 mm
4-axis wet and dry machining
Automatic tool changer 7 tools
Color coded tools
The new SMART allows you to easily start the production of dental restorations chairside and offers you maximum freedom. Combine the SMART with your favorite intraoral scanner, any CAD software and materials suitable for your individual patients. The SMART  is the heart of your workflow and produces the perfect restoration for you.
The integrated CAM software gets you started right away!
Versatility for blocks
The SMART has many talents. Wet grinding of glass ceramics or composites containing ceramics and dry grinding materials such as zirconia and PMMA.
A small change with a big effect. Benefit from an easy changeover: insert the reservoir for wet processing or the optional reservoir for milling dust and start processing high-quality restorations. A special filter mat in the liquid tank ensures that the tank is free of chips.
No compressed air with innovative technology
A great innovation of The SMART is that it does not use compressed air: The SMART does not require an external compressed air connection or an integrated compressor, which is only possible with the AIR TOOL patent.
AIR TOOL turbine blades   use high frequency spindle speed to generate powerful airflow, which keeps the work piece free of dust and chips. They are evacuated by suction from a dust extractor.
Wet grinding
PURE WATER technology   ensures that the closed liquid circuit of the machine does not require any grinding additives. For you, this means easy disposal and even lower running costs.
Dry grinding
The optional dry container allows you to mill materials such as zirconia, PMMA and various composites with your SMART without cooling water or compressed air.
| | |
| --- | --- |
| Fields of application | Dry machining |
| Dimensions | 360 x 370 x 490 mm  |
| Weight | ± 28 kg |
| File Format | STL |
| No. of axes | 4 |
| Ports Ecran | DVI, HDMI et VGA |
| Automatic Tool Changer | 7 tools |
| Machinable materials | Premilled, nanoceramic, feldpath, zircone, pmma, lithium disilicate, lithium silicate, castable resin |
| Movement of axes | A axis Rotation angle: +190° to –10° |
| No compressed air | |
| Repetition accuracy | ± 3 microns |
| Rotation Speed | up to max 60,000 RPM |