Fast and precise block machining
Integrated compressor
Ultra-HD milling and grinding
Easy and intuitive operation: Automatic block assembly and clamping in 1 click
Quiet and comfortable solution: Sealing and soundproofing
Cast aluminum frame for better seating and stability
Restorations in less than 10 minutes!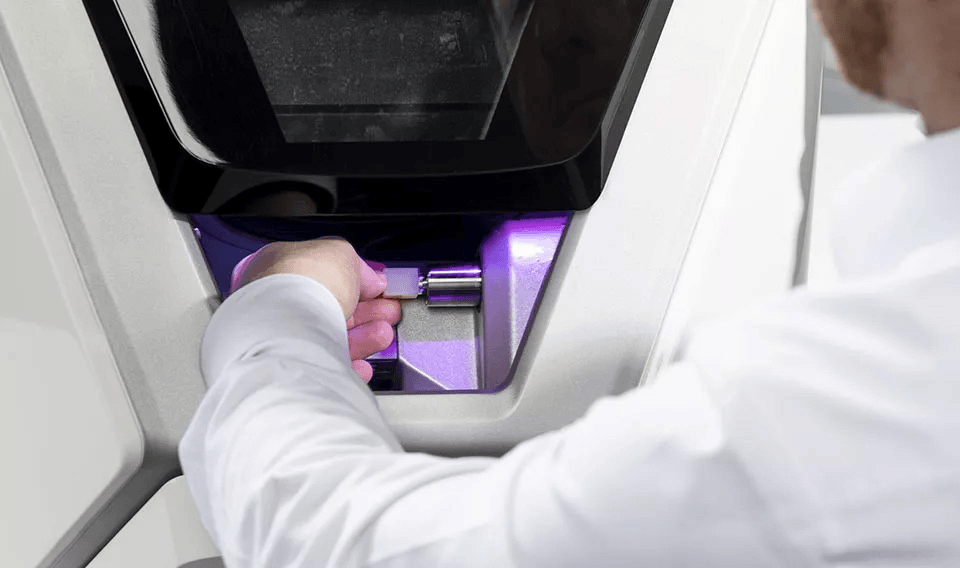 Highest precision
Milling and grinding in ultra HD
Proven industrial quality
3 microns repetition accuracy
Fastest production
Restorations in under 10 minutes
2-second block insertion
100,000 RPM electrical high frequency spindle
Extremely economical
Clear water
no additives necessary
Automatic changer for 6 tools
Self-opening working chamber door and drawer
Easy to learn, easy to operate
Complete independence
38 block materials from 20 manufacturers – and growing
>800 prefab titanium abutment blanks from 11 manufacturers
Validated with all established scanners and design software
Fully integrated workflow with DWOS chairside (Dental Wings) and exocad ChairsideCAD*
Integrated PC with touch screen and Wi-Fi – no laptop or tablet necessary
Built-in compressed air – no compressor needed
* Material and indication availability may vary by CAD provider. Full range of indications and materials available in STL workflow. 
Milling software – DentalCAM
High-performance software package with open STL import for all common CAD programs

Optimized CAM strategies for the fastest possible machining
Fields of application

Wet grinding

Dimensions
471 x 522 x 507 mm

Weight

~66 Kg

File Format

STL
N

o. of axes

4

Automatic Tool Changer

6 outils
Machinable materials
Premilled – Nanoceramic – Feldspath – Zirconia – PMMA – Lithium Disilicate – Lithium silicate – castable resin

Repetition accuracy

± 3 microns

Rotation Speed

jusqu'à 100 000 tours / minute

Pure water

No additives necessary

Integrated service webcam

✔︎
Compressor inside
✔︎
Touch screen
✔︎
Integrated PC
✔︎